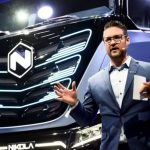 Milton was taken into custody in New York at the weekend charged with securities fraud and wire fraud.
It is alleged that Milton used social media, TV, print  and podcasts to persuade 'retail investors' – i.e. unsophisticated investors – to put money into Nikola.
False statements by  Milton are alleged to be that Nikola was  developing batteries and other components when it was actually buying them in, that it had billions of dollars worth  of orders which, it turned out, could be cancelled and that a truck was a working prototype when it had no means of propulsion (a demo was performed downhill to hide the fact it was not under power).
Milton's stock in Nikola was once valued at $8.5 billion. He resigned as chairman last year