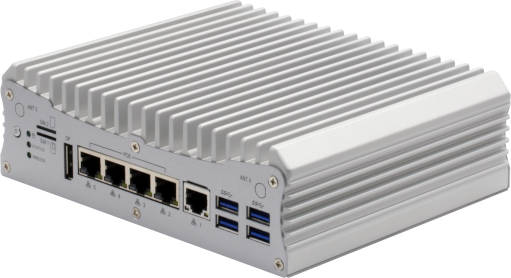 It comes in two versions:
VPC-5620S IS industrial (right)
VPC-5620S VS in-vehicle (below)
With up to 64Gbyte of memory, the PCs can be used in intelligent visual analysis applications for smart factories or security, said the company. They have expansion slots, that can support AI accelerators for more inference processing capability.
Four smart power-over-Ethernet PSE ports are included for PoE cameras.
"The smart PoE ports can be managed with a user-friendly interface, allowing users to control voltage outputs or turn ports on and off remotely," according to Aaeon.
Features include four USB3.2 Gen 1 ports, two COM ports, HDMI and 8-bit DIO.
For expansion, wireless connectivity is supporting through two mPCIe slots, designed for Wi-Fi and LTE network deployments, along with an optional M.2 slot for 5G support. Then there is an M.2 slot with NVMe support for fast read/write speeds, as well as two 2.5in SATA drive bays to support local network storage needs, such as for NVR and AI Surveillance applications. eMMC and mSATA storage is also possible.
The front panels have the four RJ45 PoE and four USB 3.2 ports, then Gbit Ethernet and DisplayPort. On top of these, the IS industrial version has two Micro SIM slots, while the larger VS vehicle version has four Micro SIM slots, CANbus and three RS-232 connectors.
For ruggedness, operation is over -20°C to 70°C and 12-14V, and the system is tested to MIL-STD-810G shock and vibration standards, said the company. The fan-less design helps keep dust and contaminants out that might shorten life.
The VPC-5620S product page is here