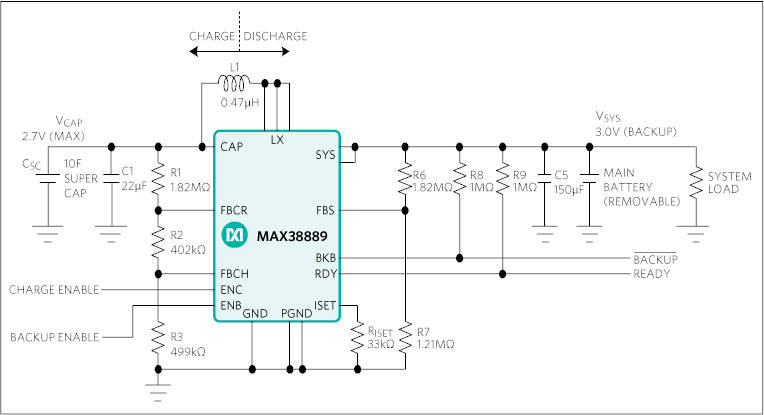 Called MAX38889, it is rated for operation between 2.5V and 5.5V on the supplied rail and 500mV to 5.5V on the capacitor.
The converter bucks down from a powered voltage rail to the supercapacitor and, when the power source is removed, automatically reverses direction and boosts up from the supercapacitor to the voltage rail using an adaptive on-time,
current-limited, pulse-frequency-modulation control scheme. Max current in either direction is 3A and it has a peak efficiency of 94%.
Once the storage element is charged, the circuit draws 4µA – and the company claims that a circuit using the IC can be implemented in 218mm2
External pins allow various settings, such as maximum supercapacitor voltage, system backup voltage (VSYS), peak Inductor charge and discharge current. Two more allow charging and back-up to be disabled.
Protection is included against short circuits on the backed-up rail.
The backup system status can be monitored through two status outputs: RDY indicates when the supercapacitor is charged and BKB indicates back-up is under way.
Operation is over -40 to +125°C. Maximum junction temperature is +150°C
Applications are foreseen in smart meters, dash cams, retail price scanners and surveillance cameras.
The MAX38889 product page is here, and there is an evaluation kit